hey ya'll.. i'm back!!! Yeah yea.. Yo Yo Wassup (* typical stella trying to be cool.. )
Anywayz, let's blog..
SPM Relief.. My friends and i took a runaway vacation to Damai Beach for a break. Aaah the soothing sea breeze, the warming sun and the eyecatching view of bikini ladies.. Whoohoo..It'was nice.. rather.. here are some of the pictures.. and some reviews.. enjoy!
My little.. chick.. Always trying to get the most attention. There ya go, i've put ya as my first pic.. in the hotel lobby. For tourists, it's a nice lobby this one that is, the nicest one in kuching i think.. or so far i've been around.. Well, there's quite a lot of energy going on there with lots of 'sakai' people.. i mean like..
"Wa.. tu kan pantai.. cantiknye.. " "..Kamek nak juak bukak baju and tros terjun ke dalam.. "
shish.. i call these people the 'pantai heroes' you'll read more about them somewhere after here..
Damai Beach, pride of all 'pantai heroes'. It is a very nice beach, cept for the seaweeds.. (it's a bluff) well, for the evening while i was there, i walked along the beach with my friends. It was nice.. romantic for couples..
Fountain of youth! Atlas, it is discovered, the lost fountain of youth.. So TOTALLY NOT! It's just another man-made fountain and somebody's so fascinated by it.. /swt.. 'Pantai heroes's favorite picture place. Has never been a miss for all tourists and ah liens around damai. Nice scenery and weird fountain odour..
(*fountain says; what d'ya expect, i've been sweating under this hot sun..)
Damai Pool Area... Sorry.. about the angmos.. they were quite disturbed ny my presence.. cheh. They should be pround. Ahjo blogged about them ya know.. Nice pool for fooling and showing off your bikinis. You can jump off with your shirtand tudung for muslims. Yeah something happened while i was swimming back and forth .. i saw a grandmother .. in the pool wearing her baju kurung.. *wow factor* *applause* Guess she must've slipped while walking. And frankly, the pool has been one of the secret training venues for the DOHA players.. Daniel Bego, Bryan Nikson with Ah jo.. *boos*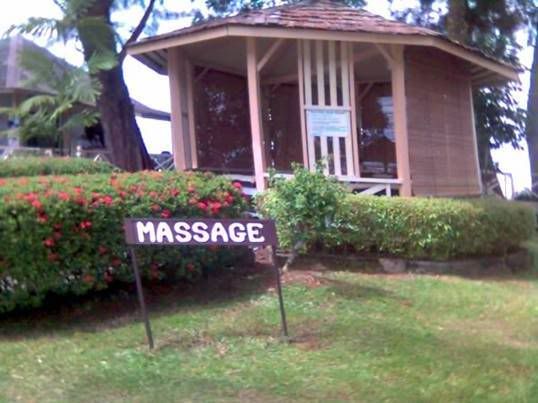 Facilities.. Massage.. Rm 55 for 45 minutes ..kawowzers.. rather throat-slitting. it's called the Traditional Massage.. no, you dont have to be naked.. and no, you cant see naked people in there and yes, you have to pay before you get massaged. maximum capity fits two. Small but comfy enough for a pocket-killing price. 'Pantai heroes' will definitely stare at the sign and see if anyone's getting massage. Travellers' paradise, i guess they dont have outside massage pollars in their hometown. All are welcomed.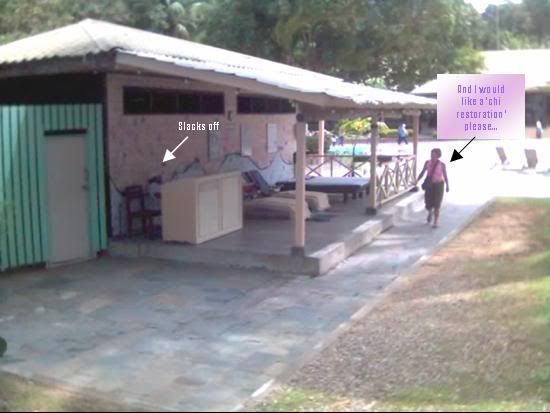 Another traveller's attraction but nonos for 'pantai heroes' is the 'chi house' Yeah. they provide you with chi restoration, relaxation ..house la.. but believe me, the guy there is slacking off. he's snoring while i snapped the pic. Talking about customer service.. Anyways, this is a new thing in damai. This wasn't there the last time i came around.
Sea condition
Pat: Jo, i'm running to the waters.. Help me check the flag and sea condtition..
Jo: *looks at flag.. flag says Red.*
Pat! Flag says red and very dangerous to stay on land.
Pat: Owh, thanks jo.
Jo: run faster Pat, no lifeguard on duty! If got lifeguard you cannot swim liaw. They catch you ask for passport!
Pat: Ow, issit. i didn't bring bo.
Jo: nevermind, that's why they put red ask you faster swim cos very dangerous. if lifeguard come then baru you tahu. they send you back to kuching with the orang utans.
Pat: Okie.. *heads off to the sea*
This is a baby pool.. how deep? 80.. cm.. only for 'pantai heroes', babies 7 years and below & parents. Believe me, you see more parents in this pool than the deep one. Amazing? Believe it!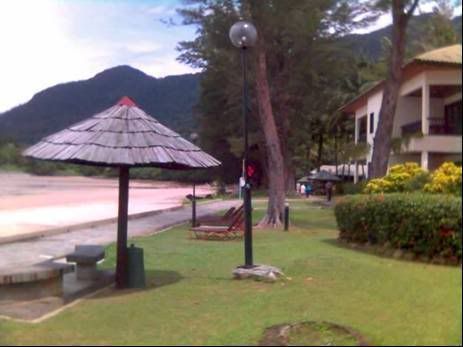 i did not scribble on this one. Just wanna keep it clean... he..heheh..ee... (*damai management pointing pistol at ahjo.. )
A whole lot more happened at damai, Shishs... don't tell.. if i do, the management will kill me... better run.. chow!
By the way, let's meet my new farm animals imported from America and australia..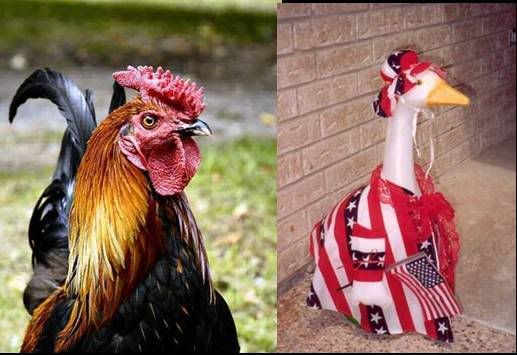 1) the only American goose in kch,

found this one on a truck heading for pontianak. Showed compassion and rescued from hands of evil 'pemanggang angsa'. Actually, i wanted to sell to the hong kong noodles house but nah, petrol so mahal. My tractor does not work on roads.

2) Australian Cock

Feel proud as you witness the only Australian Cock found in kuching. The former owner of Australian zoo has 2 cows and a cock. He battled his cow in a cow-fight and lost his zoo. And i (with pride) won his zoo and got his cock. Sold the zoo away and kept this cock in a coop. Coop accidentaly left in kampung. Coop was too small so let it free. Cock went free and bugged the chicks. Chicks got angry and complained. Then whole chicken farm went crazy then kampung people ave back to ahjo. Ahjo welcome back cock to barn animals.
P/s: next time you go to damai, watch out for road-washing vehicles. Man, they're darn slow.
Copyrighted from ahjo's barehands. For more info, please log on to
http://www.ahjo-vacationtrip.com/